The PARALYMPIAN SEARCH is coming to Vancouver on Sunday, Oct 22.  BC Para-Nordic head coach Jessica Heyes will be attending along with Para athletes Andy Lin, Kevin Priebe, Maya Jones, and Lindsey McDonald.  Together we encompass all Para-Nordic skiing categories: B1 visually impaired, L10 sit ski, LW 5/7 standing male, LW9 standing female.  Cross Country Canada's Para-Nordic coach Kate Boyd will also be attending.  We hope to attract new athletes excited about working hard and having fun in a fabulous outdoor winter sport. We will have sit skis, mountain boards and an EKO biathlon rifle for participants to try.  Further details in the official announcement below.  Please help spread the word.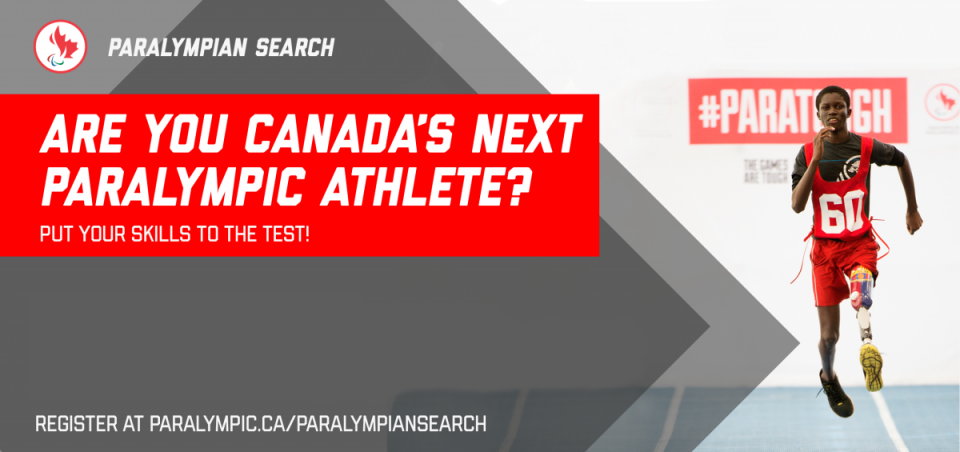 PARALYMPIAN SEARCH to visit Vancouver and Toronto to discover future generation of potential Paralympic athletes
VANCOUVER – The Canadian Paralympic Committee, in collaboration with the Canadian Olympic and Paralympic Sport Institute Network, is pleased to announce that the PARALYMPIAN SEARCH will be visiting Vancouver on Sunday, Oct. 22 and Toronto on Sunday, Nov. 26.
PARALYMPIAN SEARCH is an exciting program designed to identify future potential Paralympic athletes. It is a one-day event offering people with a disability the chance to test their abilities and discover which Paralympic sports they are best suited for. The event also welcomes current or former athletes from all levels aiming to transfer into a new Paralympic sport, or discover another sport that can complement their main discipline.
The event is open to people with a physical disability or a visual impairment, aged 14 to 35. Registration is free and can be done at paralympic.ca/paralympian-search.
Along with discovering their aptitude in a variety of sport skills, participants will have the chance to meet Paralympic athletes, hear their stories and see their medals.
WHAT: PARALYMPIAN SEARCH Vancouver
WHERE: Richmond Olympic Oval, 6111 River Road, Richmond, BC, V7C 0A2
WHEN: Sunday, Oct. 22, 2017. 9:00 a.m. to 1:00 p.m.
WHO: Trevor Hirschfield, three-time Paralympian in wheelchair rugby (London 2012 silver medallist, Beijing 2008 bronze medallist)
 and
 WHAT: PARALYMPIAN SEARCH Toronto
WHERE: Toronto Pan Am Sports Centre, 875 Morningside Ave, Toronto, ON, M1C 0C7
WHEN: Sunday, Nov. 26, 2017. 9:00 a.m. to 1:00 p.m.
WHO: Brad Bowden, five-time Paralympian in Para ice hockey and wheelchair basketball (Athens 2004 gold medallist, Torino 2006 gold medallist, Sochi 2014 bronze medallist)
 
TO REGISTER: paralympic.ca/paralympian-search
About CSI Pacific: Powering Performance. Inspiring Excellence.
Offering world-class Olympic and Paralympic training environments in Vancouver, Whistler and Victoria, Canadian Sport Institute Pacific (www.csipacific.ca) is committed to Powering Performance. Inspiring Excellence.
Working with national sport organizations and fueled by our national and provincial partners such as Sport Canada, viaSport, Own the Podium, Canadian Olympic Committee, Canadian Paralympic Committee and the Coaches Association of Canada, we are driven by our mantra to Collaborate. Serve. Innovate.
Our team of sport science, sport medicine, coaching & life services experts provide leading-edge programs and services to athletes and coaches to ensure they have every advantage to win medals for Canada.
For more information, please contact:
Alison Korn
Senior Manager, Corporate Communications & Media Relations
Canadian Paralympic Committee
613.569.4333 ext. 243
akorn@paralympic.ca 
 
Noah Wheelock
Manager, Communications
Canadian Sport Institute Pacific
250.220.2534
nwheelock@csipacific.ca
Laura Albright
Manager, Communications and Events
Canadian Sport Institute Ontario
416.596.1240 ext. 238
Email: lalbright@csiontario.ca