2017 IPC World Championships
Finsterau, Ger.
February 12th 
Another rising star for the Canadians, Emily Young (formerly Emily Weekes), earned a spot in the women's skate-ski standing final.  Competing in her third season, the 26-year-old Vancouverite locked up sixth spot in a hard fought final.
"It was not perfect, but better than yesterday," said Young. "I came in with a fresh slate and ready for a fight. I had a race plan and knew the course well. The races got better each time and it was encouraging to hang on to some of the fastest skiers for longer then I could in the past. I am happy with where I am in the sprinting field this far in my career."
Full Article: http://www.cccski.com/Media/Press-Releases/Former-Sledge-Hockey-Player-Collin-Cameron-Sprints.aspx#.WLCDHvkrLcs
Complete Results:  https://www.paralympic.org/nordic-skiing/calendar-results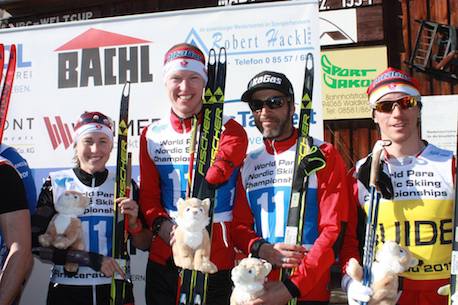 L-R: Emily Young, Mark Arendz, Brian McKeever and Graham Nishikawa (Guide).
February 15th
Canada's Para-Nordic Team skied into the history books after winning a bronze medal for the first time ever at the World Championships in Finsterau, Germany on Wednesday.
Led by the legendary Brian McKeever (Canmore, Alta.) and his guide Graham Nishikawa (Whitehorse), the high-powered Canadian squad also included Emily Young (Vancouver) and Mark Arendz (Hartsville, P.E.I.).
The Canadian contingent combined to post a time of 24:53.4 in the unique relay format that is open to a combination of men or women teams. Each athlete skis at least one 2.5 kilometre leg.  Athletes are given percentages based on their disability classification.
"It is pretty awesome to have such a great result today with the boys, and finally snag my first World Championship medal," said Young, who was making just her third ever relay start while competing in just her second World Championships. "The race was a rough one. The weather is getting warmer, and the snow softer, which is making it more tiring for sure."
Young, a former wrestler who suffered an injury to her right arm during a training camp in 2009, was the lone woman out of the top-four teams to compete.
"Being one of the only girls out there, it was tough to ski against the men's field but I gave my best effort, and that was all I could do. I just had to remember to ski my race, and know that I would likely fall behind a bit. I skied the fastest so far on this course," said Young. "It was a very exciting race and I am very proud of the team."
France captured the gold medal with a time of 23:55.9. Norway was second at 24:19.7.
Brian McKeever and his guide, Graham Nishikawa, made their first appearance at the Para-Nordic World Ski Championships. The high-powered duo skied the opening leg where they handed off to Young in first place. Young tagged Mark Arendz in seventh place. Arendz, who already has already won gold and silver in the biathlon events this week, climbed the Canadians into fourth place before opening the door for McKeever and Nishikawa to make the final charge for the bronze medal.
"The boys did such a great job to close the gap and grab the bronze," said Young. "This was a deep field. The conditions were so tough, and without our wax techs we wouldn't have got around the course as fast as we did. We had some of the best skis out there once again today."
Canada's previous best Para-Nordic relay finish at a major event came at the 2014 Paralympics when they were fourth in Sochi.
Full Article: http://www.cccski.com/Media/Press-Releases/Canada%E2%80%99s-Para-Nordic-Team-Wins-Historic-Bronze-at-.aspx#.WLCDiPkrLcs
 Complete Results: https://www.paralympic.org/nordic-skiing/calendar-results
February 16th
Two Canadians are now regulars in the battle for medals in the women's standing division.  Vancouver's Emily Young and Brittany Hudak, of Prince Albert, Sask., finished fourth and fifth respectively in the women's 15-kilometre classic-ski race.  The 26-year-old Young, who was part of Wedensday's bronze medal relay team, rocketed out of the start, but faded near the end of the race where she clocked a time of 54:21.3. Hudak, 23, finished just behind her fellow Canuck at 55:53.9.
Ukraine swept the women's standing race. Oleksandra Kononova set the time to beat at 51:56.9. Iuliia Batenkova was second at 53:38.1, while Liudmyla Liashenko completed the sweep with a time of 53:59.4.
"The most exciting part for me is watching these young guys like Brittany and Emily killing it in classic, or watching Collin who has become a superstar over year in just his second year," said McKeever. "I'm old has heck, but you see these development guys come in and all you can do is give them the toolbox to achieve success and show them the door, but they have to open it. These guys are and they are nailing it.
"They are all having their best World Championships and for me that is very exciting. They are all proof if you work hard, you can come in and achieve success. Hopefully they will all see the potential as well to now push themselves further and go even faster."
Full Article: http://www.cccski.com/Media/Press-Releases/Brian-McKeever-and-Graham-Nishikawa-Golden-at-Para.aspx#.WLCDnvkrLcs
Complete Results: https://www.paralympic.org/nordic-skiing/calendar-results