KELOWNA, B.C. – Twenty-eight young cross country skiers attended this fall's second Teck Okanagan Regional Dryland Camp, which was held in Kelowna from October 13th to 15th.  The camp challenged the Okanagan's next generation of athletes, in several aspects of training, in a fun and supportive atmosphere created by the camp leaders and the 10 volunteer coaches who helped them. 
During games and group activities, participants took on endurance, strength, agility, balance and stretching challenges.  In addition ski bounding and rollerski sessions honed their classic and skate ski skills.  The beautiful, sunny weather and crisp morning air made running and hiking in the beautiful hills and rocky grasslands behind Camp Dunlop pure magic!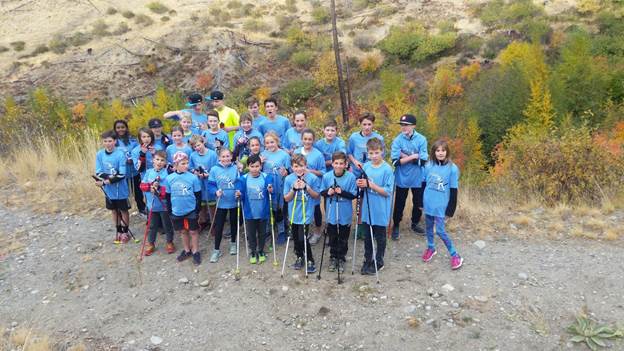 Another highlight of the weekend was a presentation by Emily Epp on her English Channel swim.  This inspirational young woman showed our Okanagan skiers how hard work and perseverance helped her achieve her seemingly impossible and extremely ambitions goal of being the youngest Canadian to swim the channel.
Campers were fueled for the weekend with nutritious meals prepared by the five person Telemark volunteer kitchen crew.  In addition; camp fires, songs and fun were led by local athletes, Ben and Matt Shipley, who made a significant contribution with their endless supply of positive energy.
For more information, please contact:
Cross Country BC                                                          Telemark Nordic Club
Cherielle Goold                                                                 Adam Elliot
250-545-9600                                                                   250-859-8464
adcoord@crosscountrybc.ca                                       coachadam@telemarkracers.org
Cross Country BC (CCBC), the provincial sport governing body for cross country skiing in British Columbia, is a not-for-profit, club-based organization of more than 18,000 members. CCBC offers programs and services to support the continuous development of cross country skiing for all ages and abilities, from introductory experiences to international excellence.
Teck Resources Limited is the title sponsor of CCBC's Skier Development Program, thereby supporting excellence in sport and providing youth with experiences that will help them prepare for the for the future. For more information on Cross Country BC, please visit www.crosscountrybc.ca.